Reaching Strides Equestrian Centre -

A Heaven For Any Horse Lover!
In Memory of...
Members of our family we've lost over the years
Click any of the below links to take a shortcut to the profile you'd like to view. You can also click on any of the images on this page to enlarge them and browse through that horse's gallery.
Colby

1996

-

2015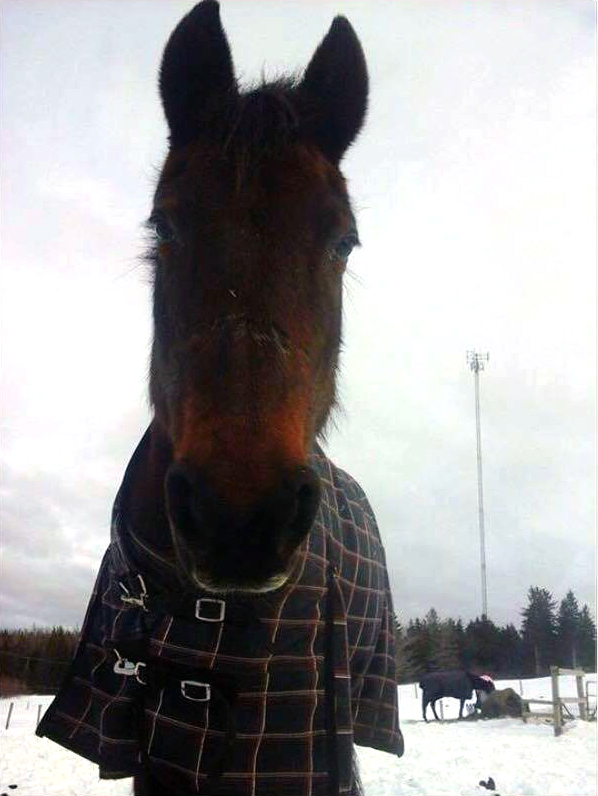 Colby passed away May 2015 after only three month as part of our team. Sadly she passed of pre-purchase Colitis condition and although she wasn't part of our team for long she sure squeezed into our hearts in the short time she was with us.
Back to top
Dreame

1989

-

2011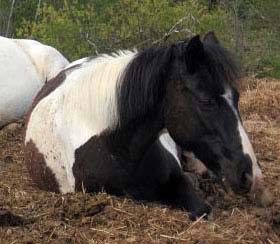 Dreame aka Dare To Dream was a beautiful piebald pinto pony mare. She was a stunning girl standing about 13.1hh. This little lady did it all; english, western, hunter, jumper, all from beginner riders and up. She was a prize in our school for 8 great years, teaching many young riders the ropes and a love for horses. She was a winner in the show ring and passed that on to her filly Misty who succeeded in even surpassing her mom's success in the show ring. Dreame was well loved and was laid to rest in the fall of 2011; unfortunately her COPD had finally won the battle. Rest easy beautiful girl! You will forever be remembered in our hearts.
Back to top
Sheza June 2,

1982

- November,

2011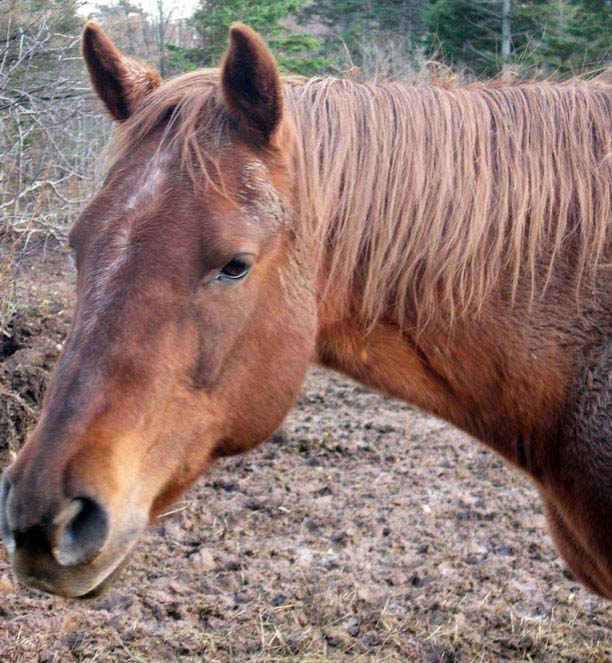 Sheza aka Sheza Kings Lady was a 15hh registered Quarter Horse mare. She was a wonderful and good girl who was put to rest in the fall of 2011; she made it to a hearty 29 years of age and was as healthy as can be aside from her arthritis, which had started to spread to every limb in her old body. A trooper to the end, she welcomed everyone that came to the stables, spent her young years competing both in english and western and then spent 5 good years as a school horse in our riding school. At a ripe 23 years of age she foaled a son, Crimson Pride, who came out with every bit of his mommy's sweet personality, and he was definitely her Pride and joy! This was an unplanned birth, but we couldn't have been more excited. She was the best mom ever and loved him dearly. Her best friend and husband was Prince the good ol' boy. Sheza spent her last 2 years walking at free will around the property, welcoming everyone that walked in the door. She is dearly missed. Rest in peace, beautiful girl!
Back to top
Pongo

1993

-

2010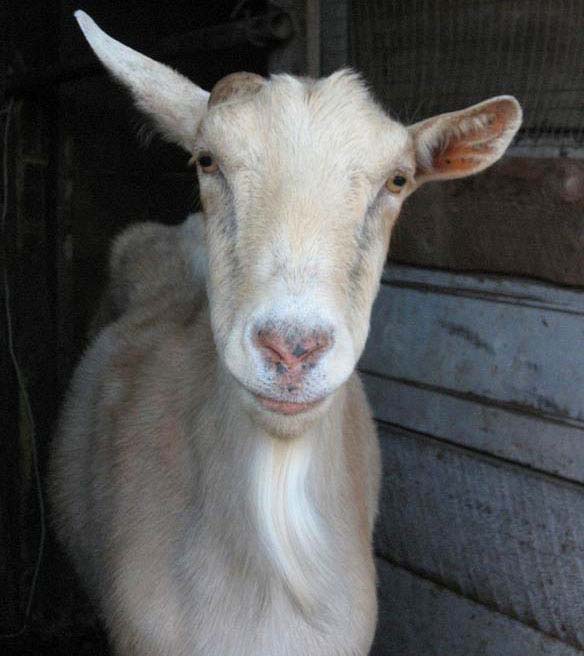 Pongo came to us after being rescued from becoming soup as a baby. He was a goat that thought he was part snuggly dog and part person. He was our welcoming committee and made everyone feel wanted and right at home. He would follow you around, lay his head in your lap, play footsies with you, and steal any and all food you left in his reach. He loved Nadine, got very upset when she'd ride and just loved to talk goat with her. Any time you needed a shoulder to cry on, he was right there with you, more than happy to lend his wisdom. Pongo was euthanised in August 2010 at the ripe old age of 17 due to arthritis. We miss him every day!
Back to top
Phoebe

2009

-

2010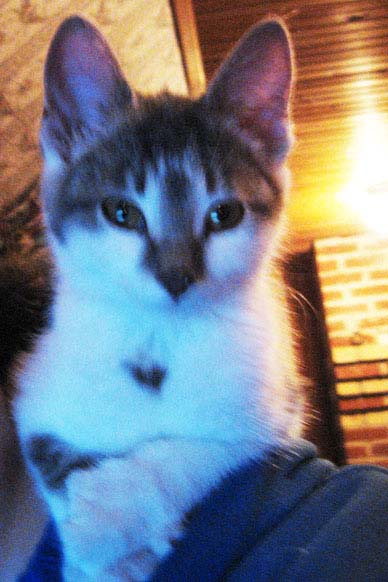 Phoebe was the newest addition to the RSEC family and we are incredibly saddened to have lost her so soon. She died from complications after being spayed and we will miss her terribly. Phoebe loved to cuddle, play and keep Nadine up all night with her antics.
Back to top
Timmy

1982

- January 2nd,

2009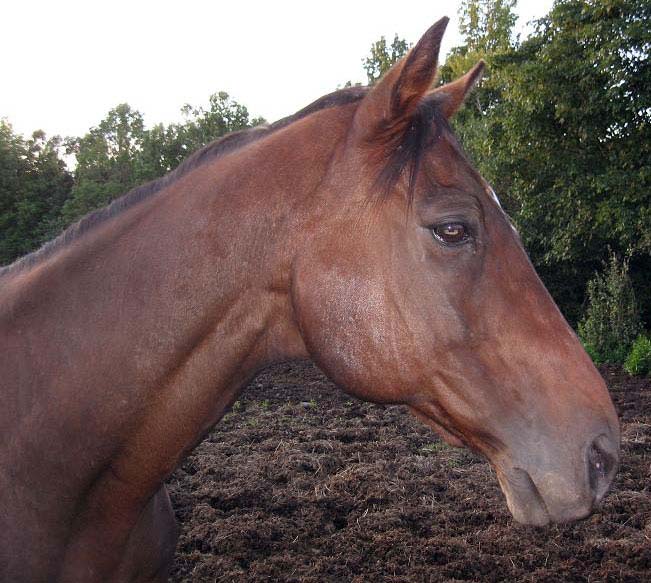 Timmy aka Mr. Nice Guy was a 27 year old registered Thoroughbred gelding that Nadine bought as her first hunter in 1999, from Judy Covert at Briarwood Stables. Timmy had been used there as a lesson horse as well as a show horse where he competed in hunter shows, including the Maritime Fall Fair. He was a school master that helped bring Nadine to the next level of competition. They showed in many competitions over the years to come, winning ribbons in all divisions. They both participated in many clinics, schooled at home, competed at competitions, enjoyed hacks, trail rides and just love in general. Timmy was that once-in-a-life ime horse that you form a real connection and bond with; he made you feel his love with every heart-warming whinny he let out the moment he saw you.
Tim was the only gelding in his herd of twelve mares, who he loved unconditionally. He was blind in one eye, but was still the herd stallion (wink, wink) leading his herd alongside Sas, who was his favourite girl of them all. He attacked any gelding that dare step a foot inside his ladies' realm. Timmy was the type of gelding that would greet you with the loudest, deafening whinny that he could muster. He would be called every morning and night for his grain, because he loved his feed, and as soon as he heard his name he would holler and slowly amble down the hill to come and get it.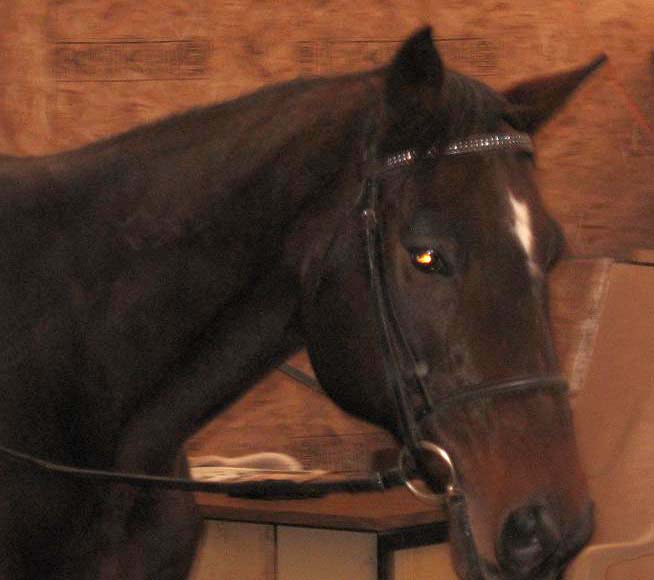 Tim was retired from the intense showing with Nadine at 24, and proceeded to become one of our school masters where he spent one final season in the show ring at age 26, winning ribbons and championships for his rider. He became fully retired after this show season and passed away at the age of 27 on the morning of January 2nd, 2009. He finished his morning breakfast, went back up on the hill to join his ladies and laid down to sleep, never to rise again. Tim was buried that cold afternoon under the watchful eye of his ladies. Once he was put to rest, the herd said their goodbyes as they stood around his grave site for one final farewell. Sas laid down on his grave and stayed with him for several hours while she mourned the loss of her beloved companion of 9 years. Still to this day, every once in a while you will see her linger at his side on that hill, silently sharing space with him as he lays at rest. The memory that still lingers in my mind is as Tim passed away, within minutes, Champion - who was in the neighbouring herd - jumped the fence to lay claim to his ladies. It was one of the most amazing things that I have ever witnessed. He knew that now, with Tim gone, it was his chance to become their leader.
I will always miss him, and the sound of his whinny will always echo the memories in my mind, as my long loved friend moves on to the heavens.
Back to top
Prince
1975 - 2009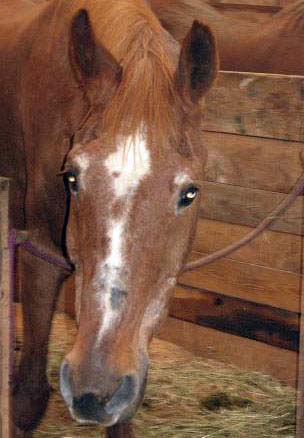 Prince aka Sweet As A Prince was a 15.1hh chestnut Thoroughbred/Morgan/Quarter Horse gelding. He originally came to us when he was 15 years old and was a family horse used for mainly trail riding, then he became Nadine's show horse for about 4 years until he moved on to become one of our school masters when the riding school was opened in 2000. Prince was loved by everyone who ever rode him; he was the gentlest of teachers with the patience of a saint.
For those that had the pleasure of riding him during his school horse and show career, they learned what it was like to ride and compete on a true master in the ring. Prince did everything from western and trail riding to hunter, and excelled. One thing that everyone that ever rode him will remember is that he had the bounciest trot on the planet, but his beautiful flowing canter made up for that tenfold.
Prince was retired from jumping at the age of 27 (not to his liking), and then at the age of 29 was retired from the school. From there he went to his retirement home with his girlfriend Sheza with Jeannie Kaiser in Port Bickerton, where they spent 5 blissful, spoiled years. They then came home in the summer of 2009 as our dear boy was starting to have regular seizures and it was clear that his time was soon to come.
Prince was happy until the end. We finally had to make the decision to let him go in August 2009 at the ripe age of 34 with Sheza by his side. He may be gone, but his memory will live on with many of us as the Sweet Prince that he was; whether it was teaching a student the joys of riding, going on a trail ride, competing in the ring or just getting treats and a good bum rub, he was one of a kind and we will treasure every memory forever.
Back to top
Patty June 22,

1980

- August 3,

2009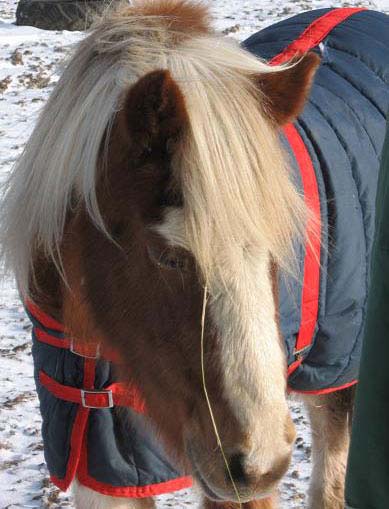 Patty aka Miss Patches was truly a once in a lifetime pony. She was a 12.3 1/2hh skewbald Welsh pony mare. She is one of those ponies that had it all - beautiful markings, perfect conformation, smooth, even gaits, a loving, kind personality, and she was fantastic mother that passed her superb genes on to all of her offspring down the bloodline as far as it goes.
Patty was Michele's childhood pony, and she could not have ever found a better pony in the entire world. They won championship after championship in all divisions they entered in. When these two showed up, everyone else may as well have stayed home, as no one had a chance against them. After her career with Michele, Patty went on to become our number one school master for beginners and up. She taught hundreds of students the love of everything equestrian and continued on in the competition ring with students to win more championships until her very last show, which was the Eastern Nova Scotia Exhibition in 2005.
She was then retired, due mostly to her COPD, and lived out the last years of her life happily bossing around her herd members, including her beloved son Jake. On August 3rd, 2009 our dear Patty finally let go and passed away in the evening, leaving Jake and the others to mourn for her. We all said our goodbyes as she passed on. Jake and the entire herd mourned her passing, as they silently watched on as she was put to rest in her final resting place.
It is difficult to describe the feeling that was left in the air as we watched the entire herd circle around her gravesite, silently standing in a perfect circle to say their goodbyes. To this day you will see Jake linger by her grave, just quietly standing, keeping her company. We will miss her always. There are no words to describe what this star of a pony did for everyone that had the honour of being a part of her life.
Back to top
Mutt

1998

-

2008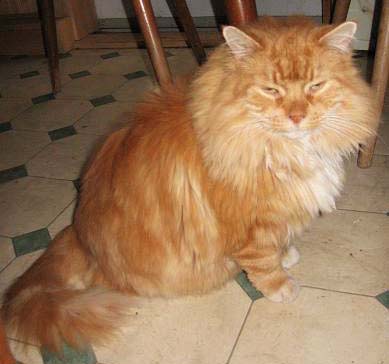 Mutt was a beautiful orange long haired girly cat. She was extremely fat all her life and was adopted by Nadine from the Highland Animal Hospital where she was to be put to sleep as a kitten, because she was the only kitten left in the litter and no one wanted her. She had a prissy, all-important attitude, loved food and loved to play. She was adopted by Nadine's Siamese, Amidelli, so she spent her first few months suckling on her adoptive mother, chowing down alongside Nico and Nikita.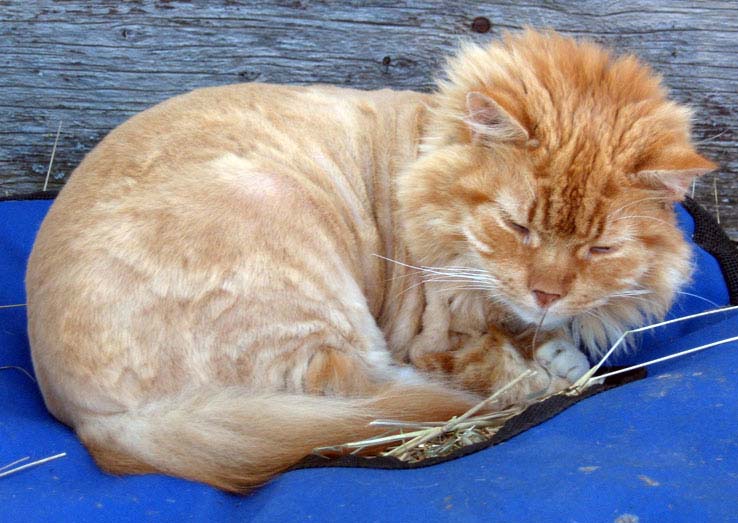 When she grew up, she always got mats in her fur and had to be shaved once a year to keep her from getting them. She was sooo adorable when she was shaved, and although she hated the process, she loved the finished job and always pranced around showing off her haircut. She loved food above all else, and spent as little time in the barn as possible, as she didn't like to get dirty. Mutt ended up getting an inner ear tumor and, unfortunately, the vets were unsuccessful in removing it completely and we eventually had to put her to sleep. She will always be missed.
Back to top
Gemini

1980

-

2007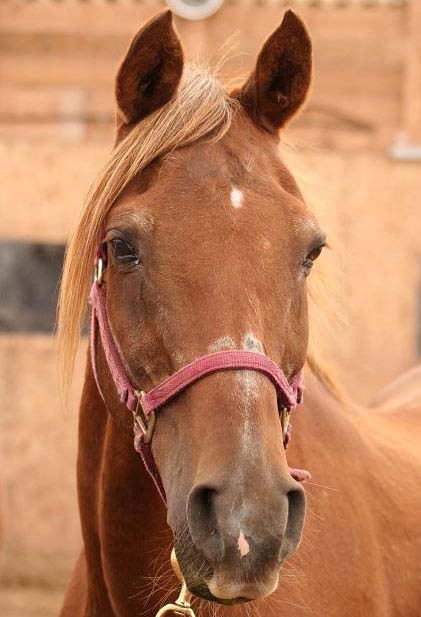 Gemini aka I Spy Gemini was a 15.1hh chestnut Arab/Saddlebred cross mare. Gem was the first school horse that we purchased when we opened the riding school. She was purchased from PEI and upon seeing her, she was the exact opposite of what we were looking for; nervous, severely abused, skin and bones. However, once we saw her we could not leave her in the sad situation that we found her in, so she ended up coming home with us.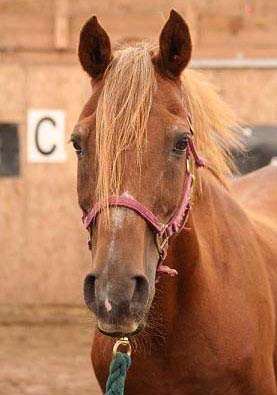 After gaining weight and lots of TLC, love and re-schooling, she became a very valuable member of the school for about 6 years, at which time she was retired. Gem was used for intermediate and advanced riders and went to some shows, which she did not enjoy but tolerated, and was also used in our musical rides and during rider level testing. She also loved trail rides.
Her best friend was Abby, with whom she spent her last year together at Cindy Cotie's as a companion horse and passed away at the ripe age of 27. For those that had the pleasure of riding her, they will remember her for her sweet personality, smooth gaits, gorgeous head and beautiful long forelock. She will always be missed, and we can only say she was one of many that had to endure suffering and came through it to become a valuable schoolmaster.
Back to top
Honey

1985

-

2007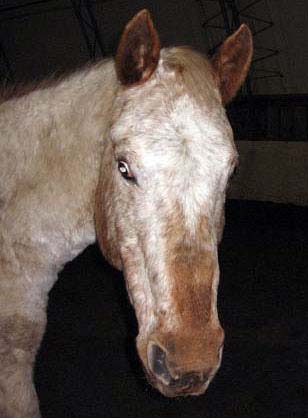 Honey was an Appaloosa mare that came to RSEC because she had a severely deformed front leg due to a previous tendon injury. Her loving owner Jerome MacPherson wanted to give her a chance to try and recover, so he sent her to us to see what we could do. Honey was one of the sweetest horses that you could ever meet, and everyone that had the opportunity to be a part of her struggle realized just how much of a heart this little lady had. She was forever cheerful and never got cranky, no matter how much she had to endure with this sad, unfixable problem that she had gotten herself into.
We cared for her for 2 years, tried to do some rehab, but unfortunately there was nothing to be done as her condition had progressed too far. However, her spirit never faltered until she finally let us know that it was time. In late March of 2007 Honey was put to sleep in her loving owner's grassy fields, where she will forever be remembered and where she is laid to rest overlooking the acres she used to roam. Honey's best friend at RSEC was Peaches; they adored eachother and spent every moment together. To honour her memory, Peaches' foal which was born 2 months after Honey's death was named in her memory; and our little Honey would definitely have made her proud, having the same love for attention, people, food and living as the champion she was named after.
Back to top
Buffy November

1998

- January

2007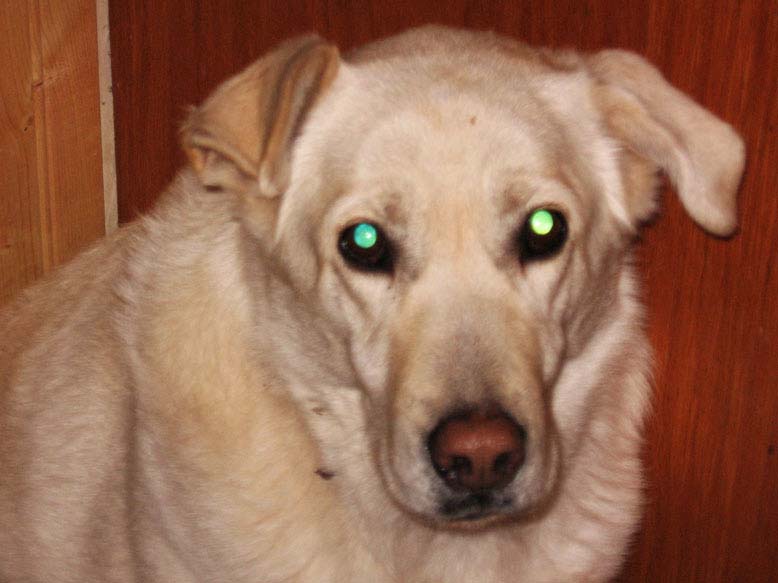 Buffy was a Lab/Husky mix, with a beautiful light gold fur colour. Buffy was an SPCA puppy and was a super best friend. She loved attention, but did not so much like men and little boys - good for her; guess she had good taste, haha! Buffy was the kind of dog that, if she sensed her owner was in any danger, would face it down and make it sorry that it ever thought about it. Those that had the pleasure of her company when she was around will remember her for her very loud bark. She loved to participate in the horse and dog relay classes; she for some reason loved to lick the cracks in the barn floor underneath the halters; and she did not like to go swimming.
She had one of the most expressive faces of any dog when you spoke to her. You would always feel like she understood exactly what you were saying. She was actually able to smile; you always knew when she was happy - that smile would come on and she would be so excited - especially if it was time to go for a drive in the car. Buffy was 9 years old when she passed away from congestive heart failure. She was a fantastic guard dog who loved and lived life to the fullest. We will always miss her.
Back to top
Don't Cry For The Horses
Don't cry for the horses
That life has set free
A million white horses
Forever to be
Don't cry for the horses
Now in God's hands
As they dance and they prance
To a heavenly band
They were ours as a gift
But never to keep
As they close their eyes
Forever to sleep
Their spirits unbound
On silver wings they fly
A million white horses
Against a blue sky
Look up into heaven
You'll see them above
The horses we lost
The horses we loved
Manes and tails flying
They gallop through time
They were never yours
They were never mine
Don't cry for the horses
They will be back some day
When our time has come
They will show us the way
Do you hear that soft nicker
Close to your ear
Don't cry for the horses
Love the ones that are here
Author Unknown
Back to top