Reaching Strides Equestrian Centre -

A Heaven For Any Horse Lover!
Training
Gift certificates are available for all of our services year-round!
RSEC provides ground training to horses of any age and under saddle training to horses 3 years of age and up. Our training focuses on allowing the owner to work with their horse, so that the final result is a well-trained horse and owner. We provide training for horses in all disciplines.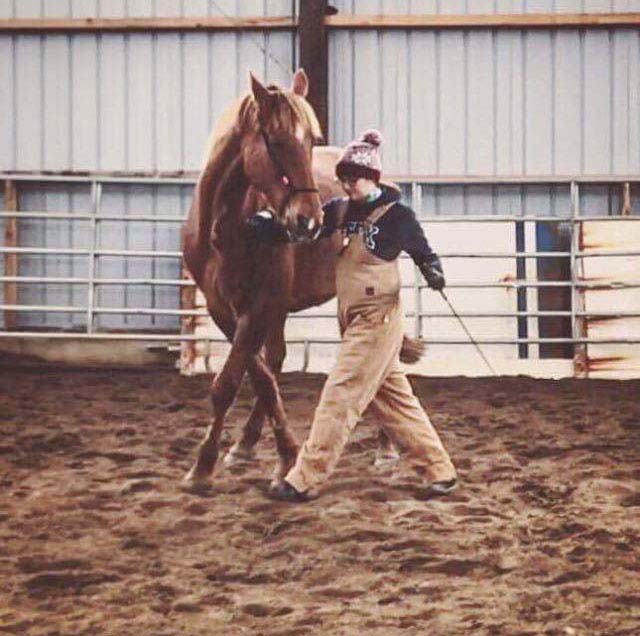 We specialize in starting and training problem horses and continuing education for performance and pleasure horses. We train through Natural Horsemanship and are confident enough in our program to offer you a full money-back guarantee if we can not train your horse. Training horses through Natural Horsemanship allows you to communicate with your horse in their own language of Equus. This type of training gives you the opportunity to form an unbreakable bond with your equine friend through body language and non-resistance training. Our training is 100% guaranteed or your money back!
We also specialize in training young up-and-coming horses for competition and sales. We believe in the motto: "a good, respectful, solid relationship on the ground makes a better relationship all around!"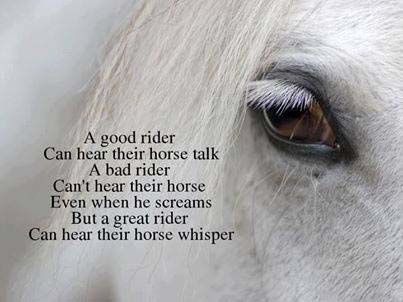 Training for the Rider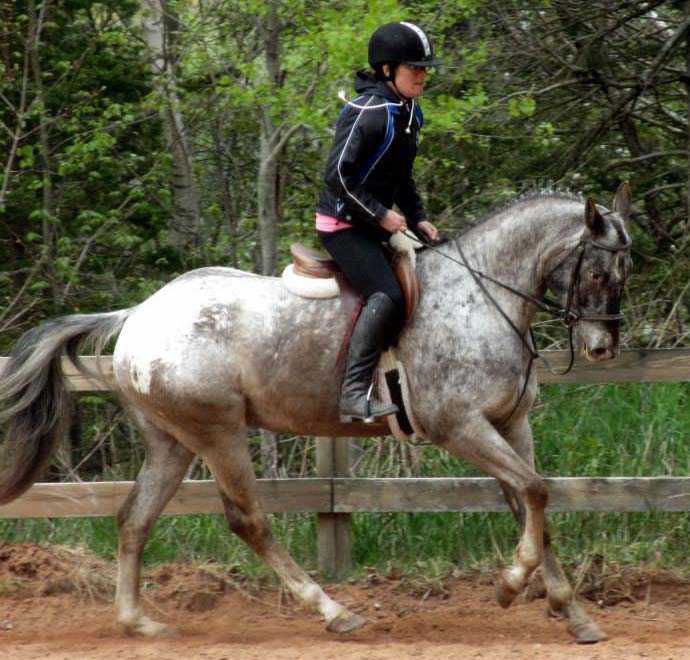 Nadine Bollig is the barn trainer for all levels of riding and all riding disciplines. Riders can choose their own training program with a minimum of one lesson per week. The program can then be tailored to suit the needs of the individual. The arena will be available for schooling for boarders and students leasing horses, however no jumping will be allowed unless under tuition.
Training for the Horse
In her career, Nadine has trained all types of horses with many different problems. You may have a young horse that has problems, or a mature horse with issues that may prevent your progress in competition. We can help. It is of great importance that the rider has a knowledge, understanding and empathy with his or her mount. Training the horse always incorporates the training of the rider. During the education of the horse, the rider will develop greater understanding and technique. Nadine is an extremely intuitive trainer with a natural affinity for horses, which she imparts during the schooling process. She has the ability to pin-point exactly where the problem lies and choose the best regime to resolve the issue.
Horse Training Rates
Nadine will also provide horse training for horses that are permanent boarders with RSEC at $50 per training ride.
Do you have a horse that has been deemed untrainable, won't get on the trailer, bucks, rears, or won't be ridden or harnessed?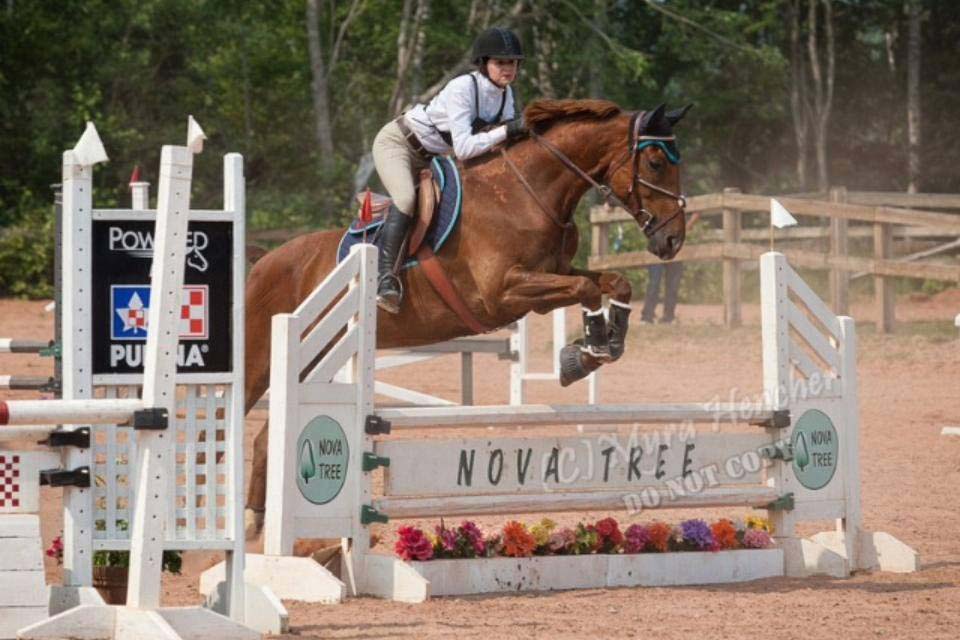 No problem! Training problem horses is our thing - no matter what the issue, we can help. We train through Natural Horsemanship which allows us to get into your horses mind to figure out what the problem is and then help the horse work through it to become comfortable with the work that we are going to ask of him/her. Our non-resistance training methods have thus far never failed, and we have dealt with hundreds of horses that were simply misunderstood. We help the owner listen to the horse so that a comfortable, safe relationship with an unbreakable bond can be formed. Horses don't lie, so if they are reacting to something or are acting crazy, they are trying to tell us something - and if we only listen, the problems can be solved no matter what the issue may be. We work with horses of all ages, sizes and breeds, from minis to drafts. We can help! Foals are also welcome!
Do you have a horse that needs some re-schooling - ex racers, pacers, etc.?
We have dealt with dozens of ex racehorses, whether they are off the track Thoroughbreds or Standardbreds. Our training methods focus on allowing the ex racer to realize that not everything in life is about excitement and speed. With patience, hard work and our re-schooling program, we have turned many of these fabulous horses into great saddle and harness horses.
Do you have a horse or pony that needs some finishing or further education?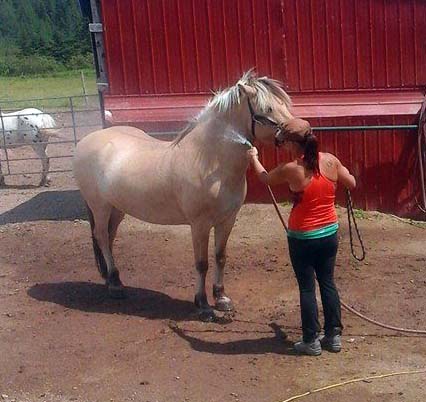 We have several qualified professional riders that assist us in our training program to bring your athlete to the next level in their training. Whether it be a trail horse in need of some confidence, a hunter or jumper that needs to be brought up to a bigger height, or a dressage mount in need of further physical training - we do it all.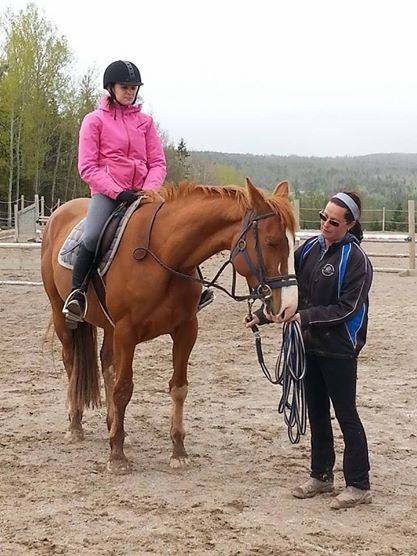 We ask that all owners or riders be as involved in the training program as much as is possible and recommend that the minimum time for training is at least two months, as we do not rush the horses in our training program. In allowing the horses the time to accept what we are asking them to do, we give them peace of mind to learn at their own pace so as to not confuse or rush them to do something they are not physically or mentally prepared to do.
One thing that we have learned is that training and riding are never-ending journeys of learning and growth. Generally, the "problem" horses are the ones that tend to teach us the most! We often don't realize that a horse has a problem because he/she has not been given the chance to learn how to do what we are asking of them, because we are always in this big rush for them to be trained. By watching horses with each other we can learn how to see that they react when the leader reacts.
If a horse is tense and fearful, chances are that at some point we have tensed up somewhere in our body language and falsely communicated to the horse, causing the horse's fear to escalate. Horses are prey animals, so for self-preservation they have learned to run if they are afraid of something. They follow the leader. If we, as the trainer or rider who are supposed to be acting as the leader, are afraid, then it stands to reason that the horse will be afraid as well.
If you are having difficulties with your horse that are only getting worse, get help before it is too late. Make sure you take the time to go and watch the trainer before you send the horse to them and find a trainer that will work with you as well.
During your horse's stay with us for training, their stalls are cleaned daily, they will be turned out whenever you like, and they are fed quality hay or haylage with once- or twice-a-day grain rations. Your horse will be loved and cared for like one of our own horses. It will be worked 5 to 6 times a week. The owner supplies any special supplements and must come for at least 1 or 2 lessons a week to learn how we work with their horse so that they can continue with the same training at home. One lesson per week is included in the training fee; all other lessons are paid for separately.
Price List
Ground manners, social behaviour, vices and under saddle

$500.00 / month
Plus board costs
Back to top