Reaching Strides Equestrian Centre -

A Heaven For Any Horse Lover!
Rescued and Rehabilitated Horses
Click any of the below links to take a shortcut to the profile you'd like to view. You can also click on any of the images on this page to enlarge them and browse through that horse's gallery.
Jake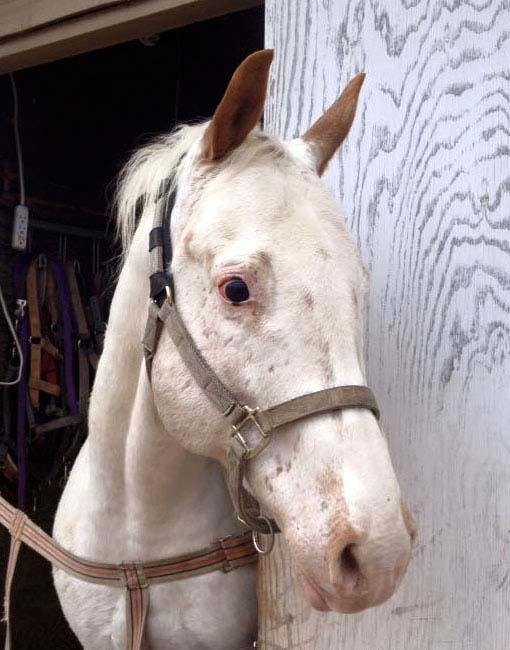 Jake is a 15 year young Appaloosa gelding who had been with his family since he was born. The family loved him dearly but wanted him to have a home where he would be less alone and could be loved by people and possibly work as a therapy horse.
His family assured us that he was healthy, kind, and very loving with people. Aside from some scarring around his eye caused by an injury years ago (which required surgery), he was a picture of health and the injury to his eye did not cause any blindness.
Nadine agreed to drive across the province to meet this handsome boy and accepted him into her stable as one of her herd of lesson/therapy horses. Upon meeting Jake, she noticed that his eyes were a bit different, but it was explained by the scarring from the accident he had years earlier. He moved around freely, was great to lead and very attentive. He loaded onto the trailer and off they were, on the road to his new home.
Upon arrival however, things changed. Nadine noticed that Jake kept bumping his head into the walls of his stall when he was taken off the trailer. Throughout the night, he paced in a circle in his stall continuously, and the next morning, Nadine found him standing there, trembling. Thinking that being outside might help Jake feel more comfortable, she brought him into his paddock. Soon after, Jake ran through the electric fence as if it wasn't there, causing some minor injury to his legs. He was lucky though....he could have easily broken his legs. It became very clear that Jake was vision impaired. He is nearly blind.
Given his vision impairment, he is not suitable as a candidate for Nadine's program. Re-homing him is also not something advisable simply because of how stressed he is being in an unfamiliar environment. Sweet Jake had no idea what was happening to him. The only home he had known for 15 years is now suddenly gone. The familiar voices are gone. Everything he had grown accustomed to...gone. Despite what many people believe, horses form very strong family bonds. These bonds include the human family around them. They feel emotional stress just like we do when they are separated from their family. At his old home, he knew where everything was. Even though he couldn't see, his senses guided him around the familiar terrain, so his former family probably never knew that he was nearly blind.
Nadine realized that the best thing for Jake would be to go back home to the family he has known all his life. He needed the stability of familiar surrounds and familiar voices. So she contacted them and told them what was happening. Their response? "We don't want him back. Do whatever you want with him, but he's not coming back here."
This was a family who claimed to love him dearly. People who went out of their way to try to find the perfect home for him. Despite being told how traumatized Jake was, and that the only good home for him would be the one he's known his whole life and that there aren't many other options to ensure his safety, they simply said "No".
After a bit of discussion, and the fact that Jake deserves better, Nadine has decided to keep him at Reaching Strides. The only other option is to have him put to sleep, but that is just not something he deserves, nor does Nadine have the heart to do it. There is just one dilemma....Nadine needs to build him a "Jake proof" fence so that he can be outside without risking injury to himself or others. This, in addition to the new Veterinary and daily special needs care expenses she'll be incurring by giving Jake his new home (all of which were unexpected), will be a bigger financial burden than was ever calculated or expected. Not to mention that Jake may never be able to be part of her program, so she may need to look for an additional horse to fill that void (which equals the expense of two horses to fill one spot).
How you can help:
e-Transfer: If anyone would like to help Nadine with Jake's care and expenses, you can do so by sending an e-transfer to: reaching_strides2000@hotmail.com
Tickets: Tickets are being sold for this picture on 8x10 canvas to raise money for Jake's care.
Price: $3 each / $5 for a book of three tickets
Draw: May 2nd, 2017
Contact Ally Cameron to purchase your ticket, or for more information.
Back to top
ET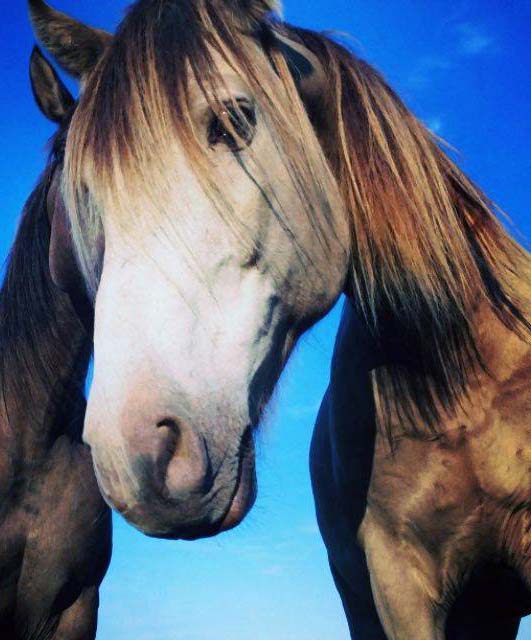 ET was part of a large rescue mission in our local area. He was one of 20 some horses that were located at a farm where the breeding got out of hand. He along with Big Jake were rescued by RSEC back in 2011; they were promptly gelded, treated for parasites, had their hooves trimmed and were put on a proper diet. Both horses received training on ground manners, and once ready ET was rehomed as a companion horse. Big Jake is still at RSEC and is in training as a trail partner.
Back to top
Family Alliance / Spartan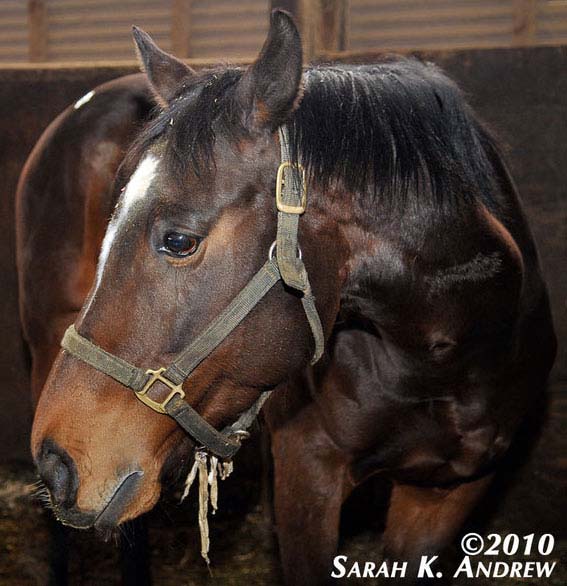 Family Alliance is a 6 year old, 16.2hh bay Thoroughbred gelding who made $17,000 on the track. He last raced at the Penn National Race Course in Pennsylvania on December 22nd, 2009.
His trainer, Linda M. Clements gave him to Ray Mills (another trainer) at Charles Town in West Virginia, who said he was going to race him. Family Alliance was no longer eligible to race at Penn National because he did not fit the requirements, but he DID fit the requirements at Charles Town. For whatever reason, Ray Mills did not race him. It is fairly obvious that he had no intention of racing him, since he picked the gelding up only four days before the New Holland (PA) auction, where Family Alliance was sold to Frank, the owner of the Camelot auction house in New Jersey.
Two days later Family Alliance was in a killpen (and would be shipped to slaughter in 4 days if he did not sell) at Camelot, where many individuals and rescuers prepared to make an effort to save him. It was Nadine, however, who bailed him out as soon as possible and secured his safety. He was transported north with a few others rescues and arrived late Friday night, March 5th.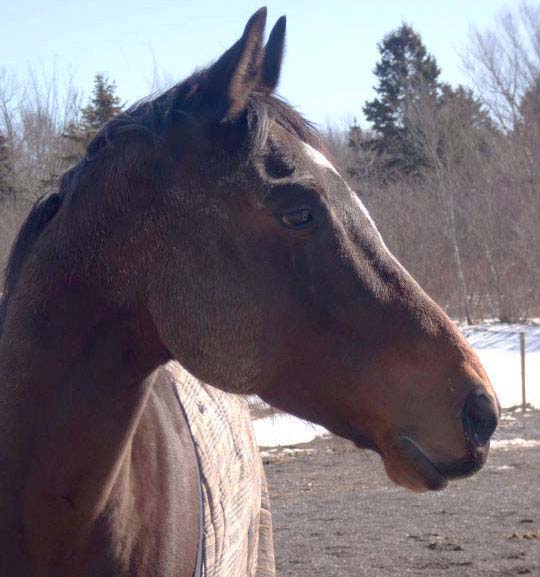 The RSHJC is fundraising to help cover the costs of his bail and transport. If you are able to help, you have our utmost gratitude, however if you cannot donate, good thoughts are also greatly appreciated. Feel free to stop in and give this big guy a kiss on the nose - it won't be long before he sees how much he is loved!
For further information or if you would like to make a donation please call Nadine Bollig at 863-6845, or send her an e-mail. A bank account is being set up for donations, and we also take Paypal.
We will also be raising funds during the canteen/bake sale on March 21st at the Intercollegiate show.
Family Alliance's pedigree can be seen here.
Back to top
RSEC would like to thank the following donors for their contributions towards helping Family Alliance..
Jessica Reilly-Reed
Martin Brown
Michele Bollig
Paul Nelson
Cynthia MacDonald
Adrienne Ackermann
Suzanne Guhler
Maria Nelson
Jeff Boudreau
Jacques Boudreau

Dr. Mike Ackermann and family

Natalie & Nicole Burns and family
David Hayne, Hoof N Forge Farrier Services
Donnie Grant and family
Carole & Brian Van de Wiel and family
Michelle & Sandy Stewart and Family
Stacy & Taylor Hayne
Wanda, Kevin & Erin Richard
Cindy Cotie
Back to top
Back to top
Cadillac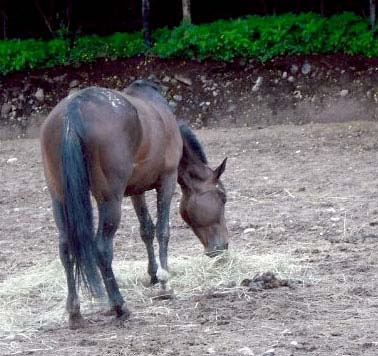 Cadillac was rescued by one of RSEC's long-time students, Amelia Mackenzie. Caddy was spotted at the Atlantic Horse Fair in Truro at the horse auction in May of 2009; she was as thin as can be, had scrapes, cuts, bruises, several big gashes, and a big lack of trust for people. She was cruelly sent through the auction to be shamed by her condition and in the end was picked up by a dealer where she was headed for the slaughterhouse. Amelia got everyone together to assist in the rescue of this darling mare, to give her a second chance at life. The Reaching Strides Hunter Jumper Club as well as many other businesses and families in NS stepped in to help this wonderful lady in her rehabilitation. Donations of money, horsey goods like dewormers, farrier care and board started to come in. Cadillac was even on "Live at 5" on CTV where her sad story was told.
Cadillac was at RSEC for rehab for about 8 months when Tammy Burnett stepped in and offered Caddy a new, permanent home. Now that she was completely healthy and had been started in training, she was ready to find a forever home and live a new life, which she so deserved. Tammy and Caddy are having a blast together, both learning from each other as they go.
We wish both of them much success and happiness.
Back to top